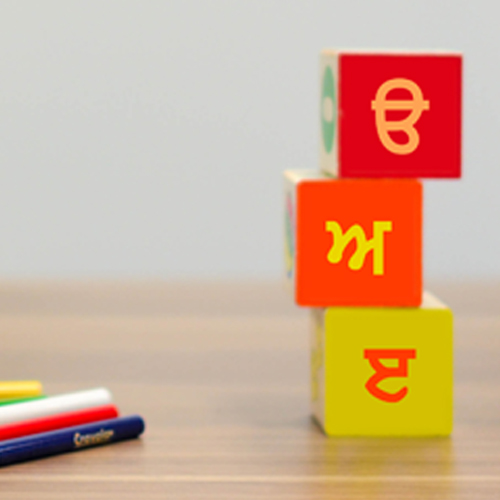 About Course
Language enables one to express oneself uniquely. It is an essential part of any culture and creates a sense of belonging in the community.
If you are a keen learner and are planning to learn the Punjabi language, you now have the opportunity to learn it online or offline.
We bring you a module of a Punjabi course that helps you to explore the depth of the language in just 20 sessions. After this course, you will be able to read, write, and speak Punjabi.
All we need from you is your commitment and dedication. We request every student to be present for all the classes, be attentive, and complete their assignments in order to reap the benefits of this course. Your devotion and seriousness will decide how well and fast you can learn through this course.
Show More
Course Content
Session 1: 03rd May 2023 (Wednesday) | 02:30 to 04:30 p.m. IST
Norms + Orientation

Introduction to language

E-book file:

Session 1: 03rd May 2023 (Wednesday)

testing
Session 2: Recognition of Alphabets& Numbers | 04th May 2023 (Thursday) | 02:30 to 04:30 p.m. IST
Session 3: Recognition of Alphabets & Numbers | 05th May 2023 (Friday) | 02:30 to 04:30 p.m. IST
Session 4: Recognition of Alphabets & Numbers | 08th May 2023 (Monday) | 02:30 to 04:30 p.m. IST
Session 5: Revision | 09th May 2023 (Tuesday) | 02:30 to 04:30 p.m. IST
Session 6: Introduction to Matras| 10th May 2023 (Wednesday) | 02:30 to 04:30 p.m. IST
Session 7: Introduction to Matras | 11th May 2023 (Thursday) | 02:30 to 04:30 p.m. IST
Session 8: Introduction to Matras | 12th May 2023 (Friday) | 02:30 to 04:30 p.m. IST
Session 9: Introduction to Matras | 15th May 2023 (Monday) | 02:30 to 04:30 p.m. IST
Session 10: Introduction to Matras | 16th May 2023 (Tuesday) | 02:30 to 04:30 p.m. IST
Session 11: Introduction to Matras | 17th May 2023 (Wednesday) | 02:30 to 04:30 p.m. IST
Session 12: Lagaakhar | 18th May 2023 (Thursday) | 02:30 to 04:30 p.m. IST
Session 13: Lagaakhar&Duttakhar | 19th May 2023 (Friday) | 02:30 to 04:30 p.m. IST
Session 14:| 22nd May 2023 (Monday) | 02:30 to 04:30 p.m. IST
Session 15:| 23rd May 2023 (Tuesday) | 02:30 to 04:30 p.m. IST
Session 16: | 24th May 2023 (Wednesday) | 02:30 to 04:30 p.m. IST
Session 17: 25th May 2023 (Thursday) | 02:30 to 04:30 p.m. IST
Session 18:| 26th May 2023 (Friday) | 02:30 to 04:30 p.m. IST
Session 19: | 29th May 2023 (Monday) | 02:30 to 04:30 p.m. IST
Session 20:| 30th May 2023 (Tuesday) | 02:30 to 04:30 p.m. IST
Session 21:| 31st May 2023 (Wednesday) | 02:30 to 04:30 p.m. IST
Student Ratings & Reviews
No Review Yet